About us
EQ Foundation is a registered charitable institution that receives funding from EQ Investors Group and other related parties. It's donated over £800,000 since 2015 to a number of registered charities. Further details here
Please note that we are not currently accepting unsolicited applications for funding as we are concentrating on our existing relationships.
Downloads
Our guide to better giving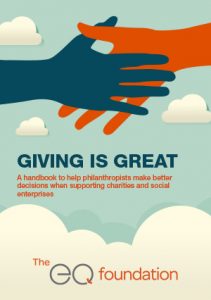 Finding good charities is really difficult. Our free guide sets out some of the pitfalls, with handy tips on what to look out for.
Giving is Great
We want to help individual donors make better decisions about their giving. In our experience, most people give money reactively, in response to an 'ask' and never really feel comfortable with their decision. So we've looked at some of the principles that work when selecting investments to provide a basis for making better selections.
One way to fasttrack the search process is to look at charities that have already passed the selection criteria set by top grant makers like Comic Relief and Esmee Fairbairn.
Another is to look for charities that have won awards, or those that are growing strongly.
"Best thing I've ever seen in this field, without a doubt" Andy Cook, chief executive, Centre for Social Justice, founder of Twenty Twenty
We've gathered data from several sources including the UK Charities Commission covering all registered charities and 360 Giving for details of major donations to allow you to see who is being supported and by whom. You can tailor your search based on the number of different donors they have attracted and by their size